Heterosiphonia plumosa (Ellis) Batters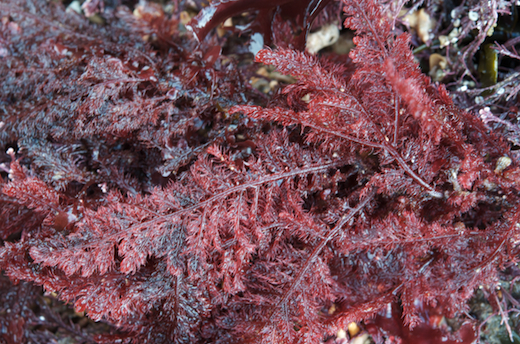 Heterosiphonia plumosa (Ellis) Batters
Description: Bushy, deep crimson fronds, to 200 mm long, from basal disc. Axis prominent (compare with Heterosiphonia japonica), cylindrical, diminishing in diameter from base to apex. Branching repeatedly distichously pinnate, branches spreading, alternate. Ultimate ramuli bifid or multifid, monosiphonous, sharply pointed. Main axis of one central siphon, 9 pericentral siphons and outer layer of corticating cells in which rings of elongated cells alternate regularly with rings of short cells.
Habitat: On rocks at low water and epiphytic often on the stipes of Laminaria hyperborea, low intertidal pools and subtidal, southern and western shores, common in the south of Britain, rare in the north. Widespread in Ireland.